DAY 3: Lithtech LT-176 White Shark 38.4V 460AH LiFePO4 battery pack
Lithtech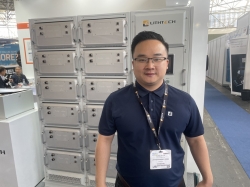 Shenzhen-based Lithtech is at the show to emphasize how the lifecycle costs of lithium boat batteries are now close to those of conventional options. Upgrading an existing boat to the newer technology is therefore increasingly feasible, according to sales director Leo Liu. He explained, "As a company, we're on a mission to help make this planet carbon-emission free.
---
DAY 3: Vita introduces all-electric commercial RIB compatible with fast DC charging
Vita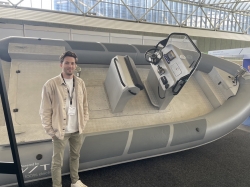 Vita, a regular exhibitor in Amsterdam, is displaying its eye-catching 5.8m all-electric commercial SeaDog RIB, which is compatible with fast DC charging. Combining high performance and practicality with a one-hour charge time, the SeaDog is ideally suited to the operational requirements of ports and marinas, according to the company.
---
DAY 3: LTO electrical energy storage system from Van Meer
Van Meer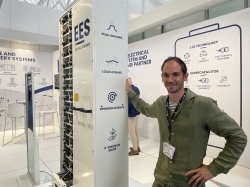 Van Meer is displaying its new, modular electrical energy storage (EES) system featuring LTO chemistry, suitable for a wide range of marine and offshore applications in new and retrofit projects. The company is keen to stress that its lithium-titanate or lithium-titanium-oxide (LTO) battery technology has the advantage of recharging more quickly than other lithium-ion batteries. It says its lithium-titanate battery can be charged and discharged for more than 30,000 cycles, which results in a longer lifetime.
---
DAY 2: Ultra-high-energy battery system
BorgWarner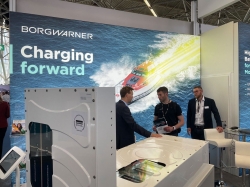 BorgWarner is displaying an ultra-high-energy battery system for power-intensive applications operating at up to 750V. The system is based on a cylindrical cell module containing 600 Li-ion cells, which achieves an energy density of 221Wh/kg. Nine modules are series-connected to create a 9AKM battery pack providing 98kWh. Production of a smaller 6AKM battery pack is planned; a combination of both pack sizes could be configured to make best use of available installation space.
---
DAY 2: Versatile new series battery system from EST-Floattech
EST-Floattech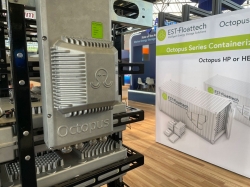 EST-Floattech is presenting its new Octopus Series battery system, which it says is gaining traction due to its versatile design. Available in high-power and high-energy versions, it is a reliable choice for a wide range of applications, from propulsion to peak shaving and hotel load. The Octopus Series was created based on 10 years of experience. Its modular design allows for customization to meet project needs, which makes it very suitable for retrofitting vessels.
---
DAY 2: Toshiba exhibits SCiB battery cells and modules
Toshiba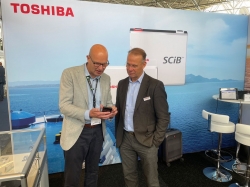 Toshiba is displaying its line-up of SCiB battery cells and modules at this year's Electric & Hybrid Marine Expo Europe. As a result of their LTO chemistry, these batteries can be charged with very high currents even at low temperatures, without the risk of lithium plating or the formation of lithium dendrites that might endanger the safety of conventional lithium-ion chemistries, according to the company. Even under such demanding load profiles, SCiB batteries offer an extremely long lifetime and usually last more than 15 years without the need for replacement. Accordingly, LTO enables new concepts for frequent recharging of electric vessels, where the capacity, size and cost of the battery can be minimized.
---
DAY 2: Leclanché showcases third-generation marine battery system
Leclanché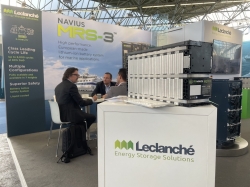 Leclanché, one of the world's leading energy storage solutions companies, is showcasing a third-generation marine battery system designed to help shipbuilders produce 100% electric and hybrid marine vessels.
---
DAY 2: Integrated ecosystem approach from Shell Marine
Shell Marine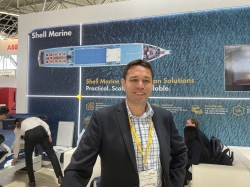 Shell Marine is another key exhibitor making its first appearance at this year's show in Amsterdam. The energy giant is here to explain how it works with a range of providers to explore solutions for ports and short-sea vessels such as tugboats, inland cargo vessels, ferries and O&M vessels. These solutions span everything from charging systems to e-vessel batteries, and from microgrid and site energy management through to power provisioning.
---
DAY 2: The world's first ammonia-powered, zero-emission ship
Amogy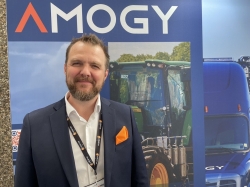 Amogy, which provides emission-free, energy-dense ammonia power solutions, has been telling visitors to Electric & Hybrid Marine Expo more about the latest progress in its plans to unveil an ammonia-powered, zero-emission tugboat later this year. The company claims that launching the first ammonia-powered vessel on the water will signal a huge milestone in the journey to zero-emissions shipping, with ammonia predicted to become the leading fuel source for the world's giant cargo ships by 2050.
---
DAY 2: New exhibitor offers 'one-stop battery shop'
Ampherr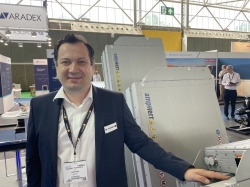 First-time exhibitor Ampherr is displaying a range of lithium batteries that it says are extremely safe and reliable, making them a good fit for sustainable and zero-emission marine applications. The company also provides an energy management system, inverter and other electric and electronic auxiliary power components as a turnkey solution.
---
DAY 2: Three-in-one shore power solution
Zinus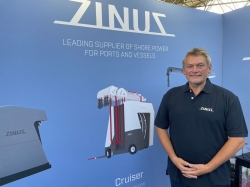 Zinus has unveiled the next generation of its cruiser design, the CRU500, a groundbreaking three-in-one shore power solution that aims to redefine the cruise industry's sustainability standards. The CRU500 combines style, efficiency and remote-controlled convenience in an all-electric package, tailored specifically for the cruising industry.
---
DAY 2: Tesvolt debuts high-density battery storage systems
Tesvolt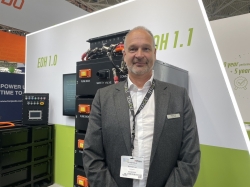 First-time exhibitor Tesvolt has been displaying its new EOH series battery storage system, which it says offers maximum power and excellent value for money. Latest generation lithium-ion cells from Lithtech to reduce costs, increase performance and delivers a higher security standard requested from DNV.
---
DAY 2: PowerCell Group demonstrates first methanol-to-fuel cell power chain
PowerCell Group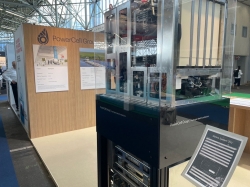 PowerCell Group is showcasing its hydrogen fuel cell solution for maritime – a truly zero-emissions technology that is available for immediate decarbonization impact today. The company has been sharing the results from a successful test that validates its new 200kW hydrogen fuel cell system set for operation on Maritime Partners' M/V Hydrogen One inland push boat.
---
DAY 2: Hydro Impulse presents major innovation in stern-drive technology
Hydro Impulse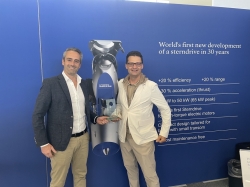 Hydro Impulse is presenting its groundbreaking Hydro Impulse Sterndrive in Amsterdam this year. Claimed to be the first major innovation in sterndrive technology in 30 years, this advanced marine propulsion system offers unparalleled efficiency, performance and design flexibility for boats, according to the company.
---
DAY 2: Damen Shipyards to present shoreside microgrids to meet ships' charging needs
Damen Shipyards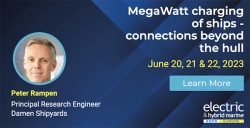 Set to be a highlight on Day 3 of the conference, Peter Rampen, a principal research engineer in ship electrification in the Damen Shipyards R&D department, will present a new approach to shoreside power. Recognizing that the next step in the electrification of shipping will require the development of Charging as a Service shoreside power, Rampen will explain how a new generation of shoreside microgrids could offer a solution, in a presentation titled, 'Megawatt charging of ships – connections beyond the hull'.
---
DAY 2: Advanced methanol-to-hydrogen generation solutions from e1 Marine
e1 Marine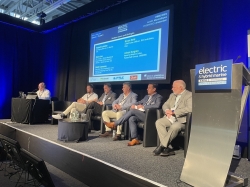 The second day of the conference features not one but two presentations from e1 Marine, a US-headquartered clean energy technology company that provides advanced methanol-to-hydrogen generation solutions to support the marine fuel cell industry.
---
DAY 2: EPTechnologies displays drop-in unit for shipyards
EPTechnologies
In addition to launching its new fully rotatable Electric Turnable Saildrive, EPTechnologies is promoting a complete drop-in unit for shipyards, having recognized an opportunity to enhance yard efficiency, given how hard it is to find electricians and other specialists in the maritime field. Inside the drop-in unit, all components are pre-wired in 1-3 frames. It includes batteries, charger, DC-DC, junction box, controller and cooling. The frames can be custom-made to fit different needs and boats in series production, and the plug-and-play unit is pre-wired for easy installation.
---
DAY 2: Corvus presents 'the world's safest fuel cell system'
Corvus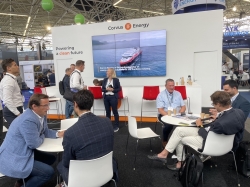 Corvus Energy is presenting its groundbreaking, inherently gas-safe marine fuel cell product, the Corvus Pelican Fuel Cell System (FCS) in Amsterdam this year. Designed to transform the maritime industry, the new product represents a significant leap forward in safe, clean, efficient power generation for marine vessels, according to the company. The Pelican FCS is the result of the H2NOR research project that started in 2021. H2NOR was initiated by Corvus Energy, Toyota and other partners to fast-track the development and production of sustainable and scalable maritime hydrogen fuel cell systems.
---
DAY 1: Customizable electromagnetic high-torque clutch range
Alltorq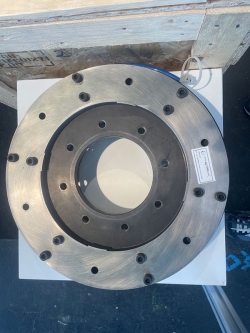 Alltorq is in Amsterdam with a range of electromagnetic clutches that are ideally suited to applications within the evolving marine and hybrid drive sector.
---
DAY 1: Electric Turnable Saildrive
EPTechnologies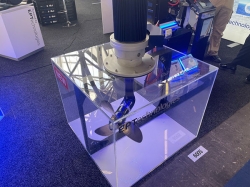 EPTechnologies is debuting its new Electric Turnable Saildrive at this year's show. The unit features an electric servo motor and offers 25-60kW of power and 500-2,000rpm.
---
DAY 1: Torqeedo launches new battery option
Torqeedo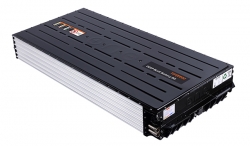 Torqeedo is presenting a new battery option for its Deep Blue series of powerful electric drives at this year's show: Deep Blue Battery 80. The new battery leverages lithium iron phosphate (LFP) chemistry and delivers 80kWh of energy storage – twice the capacity of the previous generation of Deep Blue batteries.
---
DAY 1: Innovative power solutions from Cummins
Cummins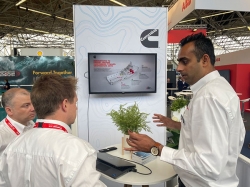 Cummins Marine is sharing its latest hybrid diesel, battery-electric and fuel cell offerings at this year's show in Amsterdam, as well as presenting on its techno-economic framework for power system selection during the Enabling Marine Decarbonization session at the conference on Tuesday.
---
DAY 1: The impact of decarbonization on ships' power
QinetiQ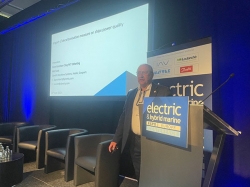 The first morning of the conference running alongside this year's exhibition included a thought-provoking presentation questioning the impact of decarbonization measures on ships' power quality.
---
DAY 1: Proven rotor sail technology
Norsepower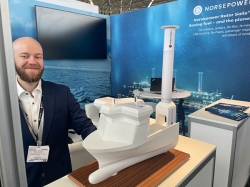 Norsepower is at the show to underline its credentials as a global leader in modern auxiliary wind propulsion for large ships. The Norsepower Rotor Sail has the longest performance history in the industry, gained through 16 installations with blue-chip shipping companies including MOL, IINO Lines, Socatra and Sea-Cargo.
---
DAY 1: Corvus containerized battery room awarded DNV type approval
Corvus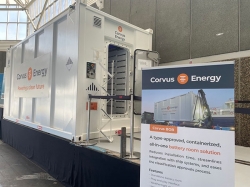 Corvus is displaying its newly developed containerized battery room solution at this year's show. The Corvus BOB (Battery On Board) has recently received type approval from DNV, having met all of DNV's stringent safety, quality and performance standards, making it suitable for a range of marine applications.
---
DAY 1: Short Straits green corridor update
Schneider Electric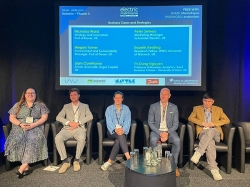 A conference (rates apply) featuring over 100 expert speakers is also underway alongside the free-to-attend exhibition in Amsterdam. Day 1 included a fascinating update on efforts to establish a zero-emissions shipping corridor between the ports of Dover, Calais and Dunkirk, with input from key stakeholders including the Port of Dover, ABB Marine & Ports, SSE Energy Solutions and Schneider Electric.
---
DAY 1: ABB reveals Dynafin propulsion system concept
ABB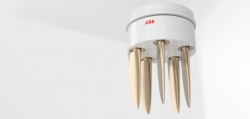 At the ABB booth there's been a lot of interest in the company's radical new propulsion system concept, called the Dynafin, which draws inspiration from the motions of a whale's tail.
---
DAY 1: Integrated propulsion system
ePropulsion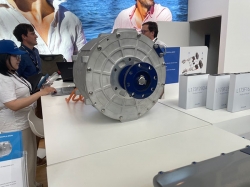 ePropulsion is in Amsterdam to present its latest integrated propulsion systems, including the H-100 – an innovative 100kW inboard motor engineered for larger sailing boats and motor vessels measuring 18-30m. It has a full displacement of up to 200 tons and is designed to deliver high performance with less noise, fewer vibrations and zero exhaust fumes.
https://www.bssc.pl/wp-content/uploads/2023/06/ELECTIRC-HYBRID-MARINE-2023.jpg
173
516
Marek Grzybowski
https://www.bssc.pl/wp-content/uploads/2018/12/logo-bssc.png
Marek Grzybowski
2023-06-23 08:30:57
2023-06-23 08:34:10
Electric & Hybrid Marine Expo – Day 1 – 3